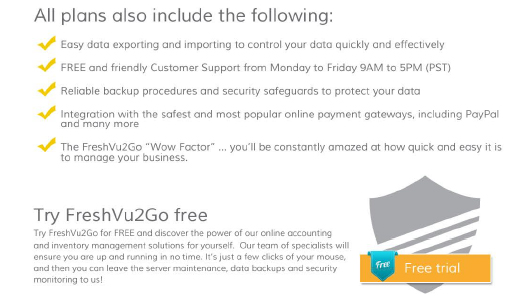 FreshVu2Go features an equipment rental feature that helps you stay on top of all your customer's needs. With equipment rentals, you gain complete command over the following details:
– Avoid items being over-booked
– Check on the availability of your items at any time
– Completed orders can be delivered when expected
– Create customizable invoices and send them to clients in seconds
– Distribute invoices to location managers, accounting personnel and customers
– Easy-to-use availability calendar give you complete knowledge and control
– Efficiency, speed, and accuracy of rentals at every stage
– Email alert feature keeps everyone informed and up-to-date
– Record management integrates with all departments
– Reservations are easily created, edited or removed
Equipment rentals demand accuracy and availability to keep your customers happy and supplied. FreshVu2Go makes rentals both easy and timely. For excellent saas management software, look no further than FreshVu2Go.
Give FreshVu2Go a free trial here: